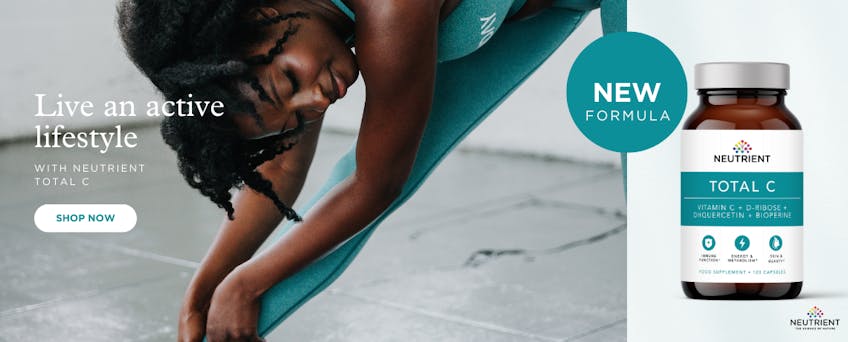 Prime Your Seasonal Defences with NEUTRIENT TOTAL C
399

Views
Posted on:
November 10th 2023
Updated on:
November 10th 2023
We've got some exciting news brewing at Neutrient, and it's not your average supplement launch. Get ready to meet the superhero of the supplement world – NEUTRIENT TOTAL C a total game-changer in the quest for optimal health and seasonal defence.
Beyond Ordinary Vitamin C
A fusion of five vitamin C forms, including buffered magnesium, zinc, and sodium ascorbates, plus the dynamic duo of ascorbic acid and fat-soluble ascorbyl palmitate. But that's not all… we've amped it up with D-ribose, DHQuercetin - another powerful defence nutrient and the star of the show, Bioperine®! This isn't just an average supplement, it's a nutrient-packed companion that reaches tissue areas that conventional vitamin C simply can't.
Let's Break It Down – TOTAL C Features:
750mg of bioactive vitamin C: Unleash the power of vitamin C with maximized absorption

40mg of D-ribose: Support your cellular ATP production for sustained energy that lasts.

10mg DHQuercetin: Say hello to a super effective defence nutrient that enhances the activity of vitamin C

5mg Bioperine®: Increases vitamin C absorption by 52%

Clean formulation: No unnecessary fillers or artificial ingredients – just pure goodness.
What Sets TOTAL C Apart?
NEUTRIENT TOTAL C stands out from the crowd with its five types of vitamin C, including the unique fat-soluble form, ascorbyl palmitate. This innovative approach ensures comprehensive coverage, reaching areas that water-soluble vitamin C alone cannot access. BioPerine® contributes to a 52% increase in vitamin C absorption, while D-Ribose and DHQuercetin synergistically support the overall effectiveness.
Health Benefits of TOTAL C:
Immune support during intense exercise: For those workout warriors!

Seasonal resilience: Face the seasons head-on and show them who's boss.

Protects cells from oxidative stress: Bye-bye, stress – we've got this!

Nervous system support: Keep those vibes positive and nerves in check.

Enhances iron absorption: Because who doesn't want an iron-clad immune system?

Contributes to the formation of collagen: Hello, radiant skin – we're looking at you!
Absorption is Our Love Language:
Mineral ascorbates and fat-soluble ascorbyl palmitate ensure maximized absorption, surpassing standard forms of vitamin C. This breakthrough formulation has a whole host of health benefits, contributing to the reduction of tiredness and fatigue and normal energy-yielding metabolism. This vital vitamin C combo also contributes to the normal function of bones, cartilage, teeth, gums, the immune system, and more!
Is TOTAL C Your Superhero Sidekick?
Absolutely! NEUTRIENT TOTAL C is the talk of the town, winning hearts among those with daily skin and beauty rituals, fitness fans, individuals requiring daily immune support, city dwellers, and anyone hustling through life's challenges. It's your daily wellness support, providing defence nutrients to elevate your health and well-being.
Make TOTAL C A Power Combo!
Can you pair TOTAL C with other Neutrient products? Heck yes! TOTAL C and Zinc + C are the dynamic duo for immune support, bones and teeth, skin and collagen, oxidative stress protection, and even mood and mindset.