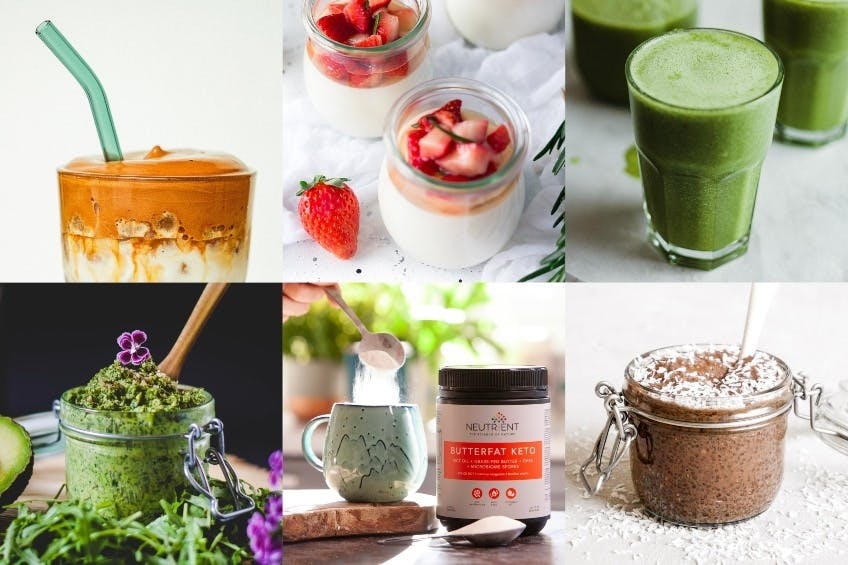 Warming winter wellness recipes
1121

Views
Posted on:
February 24th 2022
Updated on:
March 1st 2022
Our most recent recipe collecting brings you a selection of warming and nourishing wellness recipes to take you through the colder months.
Food Scientist and Nutritionist Susie Debice has created these recipes using all your favourite ingredients but with an extra helping of goodness. Each recipe uses Neutrient Butterfat Keto to fuel you through the colder months.
Bulletproof Coffee
You won't believe how quickly you'll fall in love with an early morning Butterfat Keto Coffee. It's essentially a bulletproof coffee, just without all the fuss, faff and blending - made super simple with our new special ingredient – Butterfat Keto.
Ingredients

2 tbsp Butterfat Keto
1 freshly brewed cafetiere or 1-2 shots of espresso
Sweeten with stevia drops (optional)

Method

Simply add 2 tbsp of Butterfat Keto to the bottom of your favourite morning coffee cup, add a small amount of hot water and stir until the Butterfat Keto has dissolved.

Top up your cup with freshly brewed coffee.
---
BSK Chair Latte - Serves 1
Ingredients

1 black tea bag
3 black peppercorns
1 cinnamon sticks
5 cardamom pods
3 cloves
1 star anise
1 cm piece ginger, sliced
250ml whole milk or coconut milk
10g (2 tbsp) Butterfat Keto
pinch cinnamon to serve
Honey to taste

Method

Add the milk and spices to a saucepan and bring to a simmer then reduce heat for 10 minutes to infuse the spices. Add black tea bag for the last 2-3 minutes. Strain the warm spiced milk into a jug, discard spices and sweeten with honey.

Add 2 tbsp (1 scoop) of Butterfat Keto to the bottom of a mug or heatproof glass, add 2 tbsp of the strained spiced milk and stir until the Butterfat Keto has dissolved. Add more strained milk if needed.

Once dissolved, fill up the rest of the mug leaving room at the top so you can use a frother to create a little foam. Sprinkle with cinnamon and serve.
---
BFK Matcha Latte - Serves 1
Ingredients

1 tsp matcha tea powder
10g (2 tbsp) Butterfat Keto
250ml whole milk or plant milk
Honey to taste

Method

Add the milk to a saucepan heat until warm but not boiling. Put the matcha and Butterfat Keto into a large mug, then add 4 tbsp of warmed milk and stir until the Butterfat Keto has dissolved, adding more milk until fully dissolved.

Use a whisk or frother on the remaining milk in the saucepan to create some foam. Pour the foaming milk into the mug, stirring to mix in the matcha and Butterfat Keto. Sweeten with honey and serve
---
BFK Mocha Treat - Serves 4
Ingredients

Method

Place the Butterfat Keto in a small bowl and add the hot shots of espresso. Stir (or use a small whisk) until the Butterfat Keto has completely dissolved. Set to one side to cool down.

Melt the chocolate in the microwave for 2 minutes or use a heatproof bowl over a saucepan of gently simmering water. Leave too cool down a little.

Use an electric whisk to whip the double cream and the vanilla extract.

Add the Espresso and Butterfat Keto to the melted chocolate and stir to combine. Then gently fold the chocolate mixture into the whipped cream until fully combined. Split the mixture between 4 ramekins, top with chopped pecans and chill in the fridge for an hour before serving.
---
BFK Thai Coconut Curry
Ingredients

Small handful coriander leaves
1 tbsp coconut oil
1 garlic clove
4 spring onions, sliced
2 tbsp Thai curry paste
400ml can coconut milk
500ml chicken or vegetable stock
1 tbsp fish sauce (optional)
4 tbsp Butterfat Keto
150g pack stir-fry vegetable
1/2 tsp turmeric
Sprig Thai basil
1 red chilli, deseeded, sliced
Lime wedges

Method

Add the coconut oil to a saucepan and gently fry the spring onions, garlic and Thai curry paste for 2-3 minutes, being careful not to burn the spices. Add in the stock, coconut milk, turmeric, fish sauce, stir-fry vegetables, coriander leaves and bring to a gentle simmer, reduce heat for 4-5 minutes.

Add the Butterfat keto to a small bowl, add one ladle of the warm Thai coconut soup, stir until all the Butterfat Keto has fully dissolved. Remove the soup form the heat and allow to cool for just a few minutes before adding in the dissolved Butterfat Keto, stir to combine. Split the Thai coconut soup between bowls. Top with fresh basil leaves and slices of chilli and a wedge of fresh lime. Serve.
Neutrient Butterfat Keto
MCT Oil, Butter + Ghee + Probiotic Powder to keto your coffee
Neutrient Butterfat Keto is the no mess, no fuss way to keto your daily tea, coffee or smoothie. By dissolving just two scoops of this deliciously creamy powder into your beverage you can transform it into a keto power brew that helps to curb cravings, keep you feeling fuller for longer, focused and energised. Neutrient Butterfat Keto is the first to combine C8 MCT oil powder with grass-fed butter powder, organic ghee powder and heat resistant gut friendly microbiome spores creating a nutritious, non-greasy way to enjoy healthy fats as part of a Ketogenic diet.
HOW DOES BUTTERFAT KETO WORK?
When used as a part of a Ketogenic diet, MCT's (Medium chain triglycerides) get converted into ketones and these can be used as a source of fuel when glucose is unavailable. Unlike other fats, MCT gets burned for fuel rather than stored as fat. There are four types of MCT - C6, C8, C10 and C12 – all naturally present in coconut oil. It's C8 which is the most effective fuel for fat burning. MCT's bypass digestion and are rapidly absorbed into the bloodstream, they head straight to the liver and get quickly converted into ketones, a powerful fuel for body and brain cells.
HEAT STABLE MICROBIOME SPORES
One downside of a low carb, high fat or ketogenic diet can be a sluggish bowel. Changes in gut microbiome may occur from eating less fibre due to cutting back on fruit, starchy vegetables, wholegrains and legumes. Butterfat Keto contains prebiotic fibre and heat stable Bacillus coagulans and Bacillus subtilis microbiome spores which survive digestion and are stable in hot drinks.
FACTS ABOUT NEUTRIENT BUTTERFAT KETO
✓ Coconut sourced MCT extracted without solvents
✓ Enriched with 4g (40%) C8 MCT per serving, the optimal MCT for fat burning
✓ Delivers 75 calories, 7.5g saturated fat, 1.6g fibre and zero sugar per 10g serving
✓ Organic ghee and butter for luxurious creamy taste
✓ Heat-stable microbiome spores perfect for hot drinks
✓ Acacia gum is a natural source of fibre and provides food for friendly bacteria
✓ Digestion-resistant maltodextrin is a natural fibre which provides food for friendly bacteria
✓ Neutral taste for adding to coffee, tea or smoothies
IMPRESSIVE RESULTS
Neutrient recently championed 17 volunteers through a new Keto wellness strategy with BFK as one of three supplements and the results were staggering. In 10 weeks the collectively lost 19 stone! During the course of the 10 weeks the volunteers embraced a new style of eating and living which followed the 5 core principles of The 5C Reset; Intermittent Fasting, Low Carb Diet, Calorie Awareness, Vitamin C, Collagen.
Linda's before and after starting Neutrient Butterfat Keto
"Butterfat Keto is absolutely amazing. It stopped me getting hungry in the mornings and definitely helped me stay focused and keep my energy levels up." - Linda